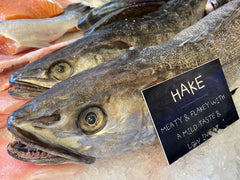 Hake is becoming a very popular fish with our shop customers, and is slowly making its way onto more and more restaurant menus.
Hake is a high quality and sustainable white fish similar in flavour to Cod, beloved in Spain and starting to make a name for itself here in Britain. High in protein with an exceptionally low fat content, lends itself very well to Spanish flavours. It is known as 'The King of Fish' in Spain, so a good idea would be to follow their lead in terms of recipes.
You can cook hake fillets in several ways. Either on the grill, baked in the oven of frying, Hake is very versatile and and they are all ways in which you can make a really great dish. It is versatile in the flavours that you can pair it with too, try it with acidic or spicy flavours, whatever takes your fancy!
You can also try it on the barbeque, see our blog post about cooking fish on the barbeque to find some inspiration.
However you prepare it, you must be careful to not over-season, and to not to over cook your Hake fillets. It can go from done to overdone very quickly because of its light consistency.